The Australian Institute of Employment Rights (AIER) is an independent organisation that seeks to ensure fair and decent workplace rights for all.
AIER works in the areas of legislation, research, education and advocacy to champion the fundamental rights and responsibilities of employers and workers, and to create positive workplaces.
The Australian Institute of Employment Rights is today releasing its Discussion Paper, Inequality and Insecurity: Responding to the challenge of precarious work, ahead of the 2016 Ron McCallum Debate.
read more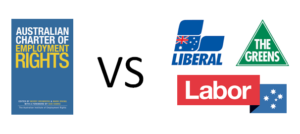 Now updated to include recent announcements. In the 2016 election campaign, AIER is using the Australian Charter of Employment Rights to assess the workplace relations policies for the three major parties.  To what extent is any political party prepared to improve our workplace regulations in line with the Charter? Read our analysis here.
Latest AIER Event
Ron McCallum Debate 2016


INEQUALITY AND INSECURITY
Moderated by the Hon Geoffrey Giudice AO, with Emeritus Professor Ron McCallum providing his insights, our stellar line-up of speakers will look to unravel the linkages between employment insecurity; economic and social inequality; economic instability and business survival.
The Ron McCallum Debate is a free public event. RSVP now at admin@aierights.com.au More information available here.