The Australian Institute of Employment Rights (AIER) is an independent organisation that seeks to ensure fair and decent workplace rights for all.
AIER works in the areas of legislation, research, education and advocacy to champion the fundamental rights and responsibilities of employers and workers, and to create positive workplaces.
Freedom of association and workplace democracy are key rights that need to be revitalised if we are to address growing wealth and income inequality, argues AIER's Executive Director in this address to the International Employment Relations Association conference.
read more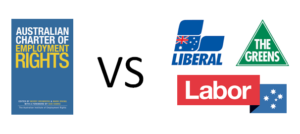 Now updated to include recent announcements. In the 2016 election campaign, AIER is using the Australian Charter of Employment Rights to assess the workplace relations policies for the three major parties.  To what extent is any political party prepared to improve our workplace regulations in line with the Charter? Read our analysis here.
Latest AIER Event
10 year anniversary
AIER celebrated our ten year anniversary in November 2015. To mark the occasion we launched our new publication, Employment Rights Now:  Reflections on the Australian Charter of Employment Rights, and heard from some wonderful AIER supporters –  Joellen Riley, Keith Ewing and Lisa Heap. Read more here.