The Australian Institute of Employment Rights (AIER) is an independent organisation that seeks to ensure fair and decent workplace rights for all.
AIER works in the areas of legislation, research, education and advocacy to champion the fundamental rights and responsibilities of employers and workers, and to create positive workplaces.
Since AIER released our election analysis last week there have been some further relevant announcements on workplace related issues. These announcements confirm our conclusions that a Coalition government would shift workplace regulation further away from the principles espoused in the Charter of Employment Rights, while the policies of Labor and the Greens better reflect the Charter principles.
read more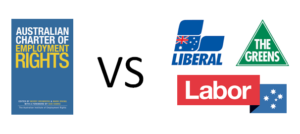 Now updated to include recent announcements. In the 2016 election campaign, AIER is using the Australian Charter of Employment Rights to assess the workplace relations policies for the three major parties.  To what extent is any political party prepared to improve our workplace regulations in line with the Charter? Read our analysis here.
Latest AIER Event
10 year anniversary
AIER celebrated our ten year anniversary in November 2015. To mark the occasion we launched our new publication, Employment Rights Now:  Reflections on the Australian Charter of Employment Rights, and heard from some wonderful AIER supporters –  Joellen Riley, Keith Ewing and Lisa Heap. Read more here.