'The Charter of Employment Rights leads the way for industrial relations in Australia – a way towards greater harmony and greater prosperity.  It is a worthy objective, which can be achieved by employers and workers adopting a template for workplace fairness.' – Bob Hawke
The Australian Charter of Employment Rights is a blueprint for the future of industrial relations in Australia, and is the foundation underlying all of the Australian Institute of Employment Rights' (AIER) work.
Developed by AIER, it is the collaborative effort of seventeen of Australia's leading industrial relations practitioners, lawyers and economists.
The Charter is a simply expressed document that unravels the complexity of the regulation of workplace relations by defining and clearly articulating the rights of employers and workers in modern workplaces.
It draws upon international as well as uniquely Australian sources to identify the ten fundamental principles on which fair and balanced workplace laws and workplace relationships should be based, and to create a set of rights and obligations which all workplaces are encouraged to adopt and observe.  These principles are:
Good faith performance
Work with dignity
Freedom from discrimination and harassment
A safe and healthy workplace
Workplace democracy
Union membership and representation
Protection from unfair dismissal
Fair minimum standards
Fairness and balance in industrial bargaining
Effective dispute resolution
Download the Australian Charter of Employment Rights
Since its release  in 2007, the Charter has received widespread support, and has set a new standard for fair employment practices within Australia.  A benchmark for assessing legislation, the Charter enables a critique of current labour laws and any proposals for change, and has been used as a reference point for reviewing Australia's systems of employment regulation.  A tool to guide processes of meditation, conciliation and arbitration, the Charter assists in the implementation of employer policy and decision making. It also forms the basis of a challenging accreditation system.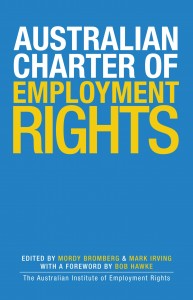 The Charter is accompanied by handbook written by Australia's leading industrial law practitioners and academics, and edited by Mordy Bromberg and Mark Irving.  The handbook explores the foundations of the Charter principles and the sources from which they come.  The Australian Charter of Employment Rights handbook, is available for purchase from AIER for $20. To obtain a copy, please contact AIER. To become an AIER member, click here.
The Australian Charter of Employment Rights book is also available as an ebook from Amazon. 
Related News Articles
11 May, 2007: AIER Encouraged by Labour Rights Based Approach