Is your organisation a fair workplace? The Australian Institute for Employment Rights (AIER) today announced the publication of its Australian Standard of Employment Rights, a how-to guide for organisations to use to assess their 'fairness factor'.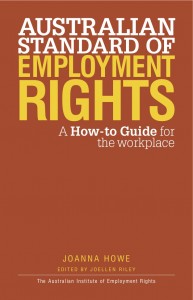 Written by distinguished Australian lawyer and Rhode Scholar Joanna Howe, this publication has taken the ten principles contained within the Institute's Australian Charter and Standard of Employment Rights and accompanying handbook, and provides a concise, clear and practical blueprint for how these rights can be applied in practice.
These principles, which include good faith performance, working with dignity, freedom from discrimination and harassment, and protection from unfair dismissal, draw upon Australian industrial practice, the common law and international treaty obligations to create a framework for both the employer and employee that meets international labour standards and the principles and policy framework of Australia's new regulatory environment.
Executive Director of the AIER, Lisa Heap, said today:
"The Standard provides a ready checklist that organisations can use to assess their 'fairness factor' and to assist those seeking to obtain Commonwealth contracts by demonstrating that they comply with the government's Fair Work Principles and Procurement Framework.  The Institute will also be able to help these organisations with a self- assessment process that will assist them demonstrating that they meet the government's requirements. Our package includes a pocket guide aimed at helping organisations and workers to operationalise fairness.

AIER believes that this latest Commonwealth Government initiative reflects a good next step in the process to ensure that substantive fairness is achieved in Australian workplaces. We do believe however, that many organisations will underestimate just how far away they are from achieving truly substantive fairness and we hope the government maintains enough rigour within its process requiring those that don't measure up to make change.

It is particularly significant that the schema announced includes the role of a procurement coordinator whose responsibility it is to ensure that that the framework is applied in practice. Too often these initiatives are left to the individual department or agency with little accountability. Without monitoring and public accountability these frameworks often become tokenistic and fail to deliver the culture change they aim for."
The Australian Standard of Employment Rights publication will be formerly launched at seminars discussing fairness and cultural change in workplaces on 20 August in Sydney and the 25 August in Melbourne.  Details of the launch, seminars and how to purchase the publication will be available on the AIER website.
The Standard guide is published by Hardie Grant Books, with a recommended retail price of $29.95.
AIER is a not-for-profit independent organisation that aims to promote positive employment relationships. Its membership includes employers, unions, academics and lawyers who are committed to this aim.
Media contact: Lisa Heap, AIER Executive Director, 03 9647 9102 / 0418 996 354.