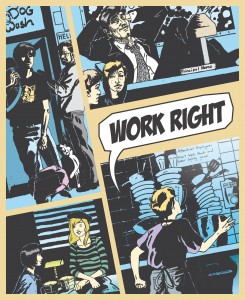 On 6 August 2011, Federal Court Justice Mordy Bromberg launched WorkRight, a multi-facetedteaching and learning package about workplace rights for young adults in Australia. Highlighting the importance of the resource to both teachers, students, and the future of Australian workplaces, Justice Bromberg reflected on both its comprehensive nature and also the simplicity with which it deals with complex industrial relations dilemmas.
WorkRight is the result of a three-year collaboration between the Teacher Learning Network (TLN) and the Australian Institute of Employment Rights (AIER).Recognising the urgent need to raise awareness about workplace rights and responsibilities amongst those entering the workforce for the first time, TLN and AIER have brought together classroom practitioners with some of Australia's leading industrial relations experts. The result is a comprehensive package of resources that support teaching and learning about workplace rights and responsibilities.
The brief for this project was to develop a rich and comprehensive resource that would help young people understand, appreciate and be able to manage workplace culture and their rights and responsibilities in the workplace.
The package contains:
A Curriculum Resource (containing more than 70 rich classroom activities)
A teacher resource (a 36 page booklet written specifically for teachers to provide them with critical knowledge to support their teaching)
A student resource with critical information and contact details for support organisations
A website exploring web 2.0 applications (www.teachworkright.com)
iPad applications for teachers
Smartphone applications for students (iPhone application available now)
The WorkRight resource is built around ten workplace themes:
Everyone should have a fair go at work
Everyone has a right to be treated with dignity
Discrimination and harassment are against the law!
Everyone has a right to a safe and healthy workplace
Everyone should get a say about the things that affect them
You should always be able to ask someone to speak on your behalf
No one should be asked to leave without a fair reason
Everyone is entitled to fair basic conditions
You (or your representative) should be allowed to bargain for a fairer deal
Disputes should be resolved quickly and fairly
The themes evolved from a conversation with a group of students at a suburban high school around workplace rights, their inquiry supported by AIER's resource the Australian Charter of Employment Rights. The question was put to the students, 'What does a good workplace look like'? Their insightful responses form the backbone of the entire package.
Anyone interested in finding better ways to communicate about relationships at work and the rights and responsibilities of employers and workers is encouraged to explore this rich resource.
The WorkRight resource is available in the following ways:
ONLINE
http://www.teachworkright.com The WorkRight website features a free download of the complete resource, including Teacher and Student manuals, and a complete Curriculum Resource. A WorkRight iPad application is also available.
PRE-PRINTED
A full colour printed version of the WorkRight Curriculum Resource manual is available for purchase from TLN. The price is $50.00 and includes postage and handling. To order a copy go to the TLN website [www.tln.org.au] or telephone 03 9418 4992.
iPHONE APPLICATION
WorkRight: Why not download the iPhone application, WorkRight, and test yourself against the clock, your colleagues or your kids to see who can answer the quiz the quickest?
Feedback on the package will be gratefully received via the AIER  [www.aierights.com.au] or TLN  [www.tln.org.au] websites.