AIER's latest publication
EMPLOYMENT RIGHTS NOW: Reflections on the Australian Charter of Employment Rights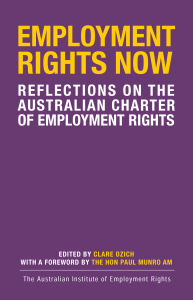 Employment Rights Now is the third in our series on the Australian Charter of Employment Rights and features contributions from some of Australia's leading workplace relations academics and practitioners. The book takes a critical look at the current state of workplace relations through the prism of the Charter of Employment Rights. Offering important insights and a different perspective from the likes of the Productivity Commission, Employment Rights Now is an essential read for the year ahead.
To order a copy of Employment Rights Now, please email admin@aierights.com.au with your name, postal address and contact details and we will post you a copy.

You can pay by bank transfer to the AIER Inc. Commonwealth Bank Account:
BSB 063009
Account No 10396571
Amount $32.95
Reference Book and your surname

Or mail a cheque to:
Australian Institute of Employment Rights
214 Graham Street
Port Melbourne VIC 3207

The prices are:
Employment Rights Now RRP $34.95
1-2 copies discount Price $32.95
Member Price $29.95

SET – Employment Rights Now + Australian Standard of Employment Rights: RRP $64.90
1-2 sets discount Price $59.95
Member Price $54.95

Postage is free. Further discounts available for multiple orders.
CONTENTS
Reflections on the Charter: an introduction
Clare Ozich, Executive Director, AIER
Promoting an Understanding of Labour Rights as Human Rights
Lisa Heap, former AIER Executive Director
1 Good Faith in Employment Relationships
Joellen Riley, University of Sydney
2 Dignity at Work
Joanna Howe, University of Adelaide
3 Freedom from Discrimination and Harassment
Anna Chapman, University of Melbourne
4 Occupational Health and Safety
Deborah Vallance, AMWU
5 Enacting Workplace Democracy – the Earthworker Cooperative
Dan Musil, Earthworker
6 Union Membership and Representation
Keith Harvey and Clare Ozich, AIER
7 Protection from Unfair Dismissal – Fairness and the Fair Work Act
Marilyn Pittard, Monash University
8 Evaluating Minimum Standards in Operation
David Peetz and Georgina Murray, Griffith University
9 Fairness and Balance in Industrial Bargaining
Elizabeth Barrett and Alex Snowball, NUW
10 Dispute Resolution
Sean Reidy, Barrister
Australian Charter of Employment Rights