'This is a first-rate book. The contributors provide further steps toward engaging with the framework established by the Charter and the Standard. I encourage anyone interested and invovled in workplace relations to read it.' – Paul Munro AM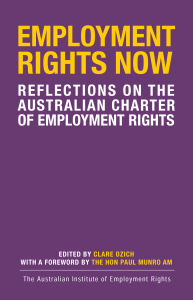 In Employment Rights Now, the latest publication from the Australian Institute of Employment Rights, some of Australia's most expert academics, unionists, lawyers and other practitioners evaluate the current status of Australia's industrial relations system.
Instead of being situated in the neo-liberal framework of economic efficiency, Employment Rights Now applies the rights-based principles set out in the Australian Charter of Employment Rights. The Charter is based on international labour standards, the Australian concept of a "fair go" at work, and relevant common law principles.
Professor Joellen Riley, Dean of Law at Sydney University, says of the book:
"Almost 10 years after the launch of the original Australian Charter of Employment Rights, and six years after the enactment of the Fair Work Act, we still face challenges in meeting our aspirations of a 'fair go all round' in Australian workplaces.  This book of reflections on how far we have come in respecting each of the 10 Charter rights is an illuminating study – and most worthy of the attention of Australian policy makers."
Employment Rights Now contains a chapter on each of the ten Charter principles including freedom from discrimination and harassment, freedom of association, protection from unfair dismissal, fairness and balance in industrial bargaining and effective dispute resolution. There is also exploration of the not-uncontroversial position that sits at the core of the Charter that labour rights are human rights.
Contact AIER to purchase a copy.
Also available as an ebook from Amazon, Kobo or via the iBooks app.