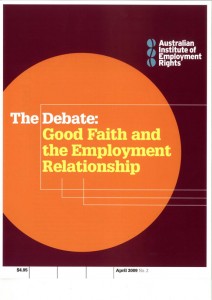 Good faith is a well-established concept in many legal systems throughout the western world, yet in Australia some employment-law practitioners remain sceptical about its place in employment relationships and have difficulty applying it in practice.
The second edition of The Debate, entitled 'Good Faith and the Employment Relationship', features articles by Professor Ron McCallum (Sydney University), Professor Marilyn Pittard (Monash University), Professor Joellen Riley (UNSW), and Mordy Bromberg SC, and explores good faith and its important place in the Australian workplace.
Contents include:
A New Framework for Cooperation? – Paul Lorraine, Harmers Workplace Lawyers
This article examines the good faith bargaining provisions of the Fair Work Bill, and considers the opportunities this new framework provides for employers.
Good Faith in Employment Relationships – Professor Joellen Riley, Law Faculty, University of Sydney
Some recent court decisions have accepted that the duty of mutual trust and confidence owed by parties to employment contracts constitutes a duty of good faith and fair dealing.  Joellen Riley considers the practical implications of the good faith obligation in employment contracts.
Bad Faith One Day, Good Faith the Next? – Lisa Heap, Executive Director AIER
This article explores some of the limitations of the Fair Work Bill and outlines some proposed solutions.
Faith Work's Good Faith Bargaining Requirements in Perspective? – Aaron Rathmell, scholar in labour law at the University of Sydney
Aaron Rathmell considers the proposed Australian laws in comparison with the United States of America's experience.
Does Bargaining in Good Faith Make Good Sense? – Dr Troy Sarina, Faculty of Economics and Business, University of Sydney
Good faith bargaining requirements make good business sense, writes management expert Dr Troy Sarina.
The Debate is only available to members of AIER.  Click here to become a member.