The Australian Standard of Employment Rights
"In my view, the Australian Standard of Employment Rights represents a benchmark against which employers and workers can measure the industrial relations health of their places of work. I am delighted to commend this fine book, which is concise and clear…" – Ron McCallum AO
Following the release in 2007 of the Australian Charter of Employment Rights, the Australian Standard of Employment Rights, is a how-to guide for employers and employees and their representatives.
If you have questions about what good faith really means, want to minimise the risk of unfair or unlawful dismissals in your workplace, want to achieve mutually beneficial outcomes or are seeking to establish effective dispute resolution procedures the Standard can help.
The Standard takes the ten principles contained within the Institute's Australian Charter of Employment Rights and identifies how these rights can, and should be applied in practice. It provides a comprehensive and practical framework for responsible workplace relationships and sound human resources practice. It also provides the blueprint for greater efficiency, participation and cooperation in the workplace.
Download a copy of the Standard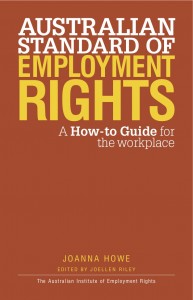 The Standard is accompanied by a handbook which is a complete tool kit for any human resources manager who wishes to make sure the practices within their organisation meet international labour standards and the principles and policy framework of Australia's new regulatory environment.  It also forms the basis of AIER's inhouse training that the Institute carries out with organisations around Australia.
The handbook, entitled the Australian Standard of Employment Rights: A How-to Guide for the Workplace, is written by distinguished Australian lawyer and Rhode Scholar Joanna Howe in collaboration with some of Australia's leading industrial law practitioners and academics.  The handbook is edited by Professor Joellen Riley.
The Australian Standard of Employment Rights handbook is available from the AIER or as an ebook on Amazon and Kobo.
For more information on AIER's training and education services, click here.
To read about AIER's Australian Charter of Employment Rights, click here.
Related News Articles
29 July, 2009: AIER to Launch its Standard of Employment Rights Guide